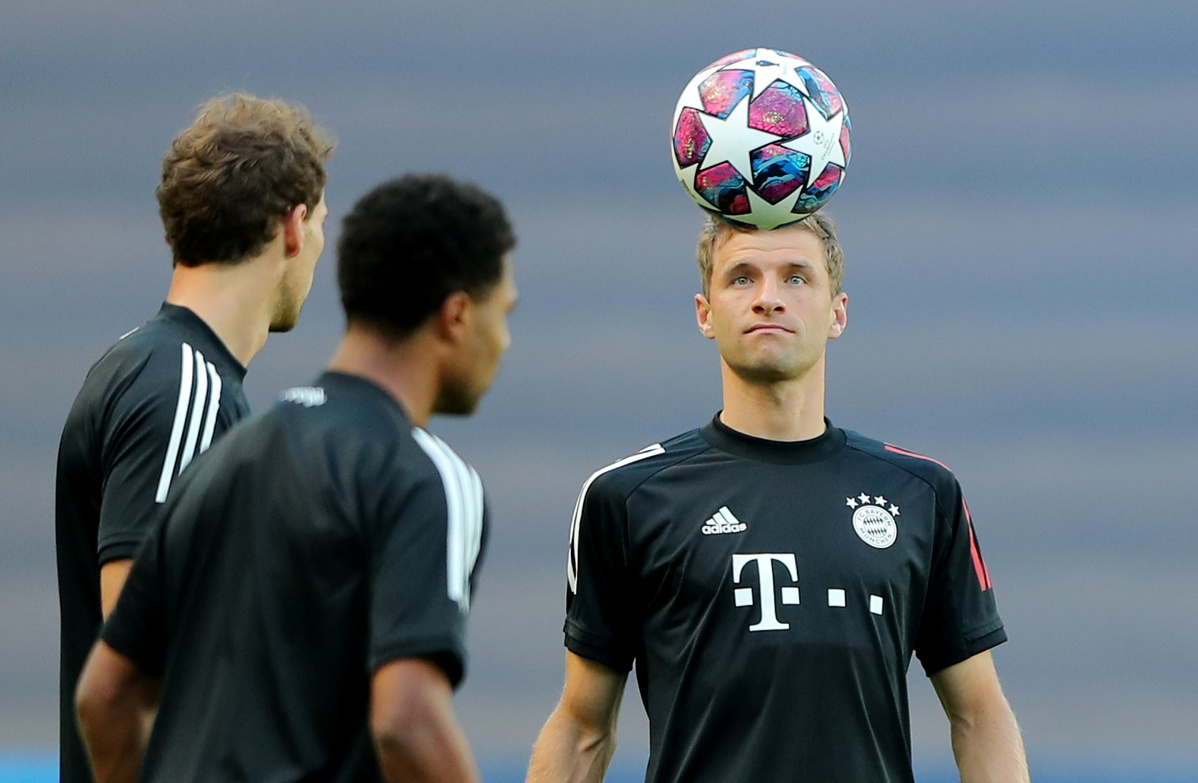 Bayern Munich's Thomas Muller during training at Jose Alvalade Stadium, Lisbon, Portugal, August 18, 2020. [Photo/Agencies]
BERLIN - Having dismantled Barcelona, Bayern Munich is the hot favorite in their Champions League semifinal against French surprise Olympique Lyon.
This season's campaign though has delivered several unexpected sensations, including the 8-2 win against Barcelona in the quarterfinal. It might sound strange to call the French tram an outsider after having knocked out Juventus and Manchester City.
Bayern coach Hansi Flick is well-advised not to talk about his side's achievements so far. In advance of Wednesday's match, the 55-year-old's order seems clear: Forget about Barca but keep your head concentrated on Lyon.
But even Flick can't deny convincing facts as several reasons speak in favor of the Bavarians.
TEAM TOOLS
No club other than Bayern seems to have better tools to break through Lyon's three-man-defense and solid midfield.
Long balls, provided by the central midfielders David Alaba and Jerome Boateng, might be one option. Invading the spaces between Lyon's defensive central line and their fullbacks (chain of 5) might be the next.
Marauding Thomas Mueller, wingers Serge Gnabry, Kingsley Coman, plus the dynamic fullbacks such as Alphonso Davies and Joshua Kimmich, seem hard to stop.
Eight different players scored eight goals against Barcelona.
3.4 goals per game on average on an undefeated 28-match run might draw a picture of Bayern's greediness.
LEWAN-GOAL-SKI
The 31-year-old Pole Robert Lewandowski might, for the first time, walk to next season's Ballon d'Or.
14 Champions League goals make him the leading striker plus five assists.
Hitting the back of the net a remarkable 54 times in just 45 competitive outings, at a rate of a goal every 73 minutes, makes Poland's captain arguably Europe's best.
Two remaining games (including the possible final) might allow him to break Cristiano Ronaldo's 17-goal-record.
SQUAD ON FIRE
Bayern proved its qualities apart from its superstars aside from the question, who in the team isn't?
"To see anyone coming in and performing at the same level makes a coach's heartbeat calmly," Flick said.
The concept of 'Mia san Mia" (standing together against all the odds) is back as the team has been rejuvenated while retaining a core of substitutes who identify strongly with the club.
"This spirit is nothing you turn on by pressing a button. It's a rare and unique thing for teams to achieve," Mueller said.
TEAM SURPRISES
Talking about a 19-year-old like Alphonso Davies is no longer spoken about as a rookie. Barcelona might regret having rejected the Canadian in summer 2018.
The initial value of 10 million euros has risen to over 70 million euros after an excellent breakthrough season.
Davies is now mentioned as one of the world's best fullbacks.
31-year-old Jerome Boateng seems to be enjoying a second spring and has returned to his former world-class self.
Leon Goretzka is ruling the midfield next to either Kimmich or Thiago Alcantara.
The Spaniard feels comfortable despite his plans to leave shortly with Liverpool mentioned as the next port of call.