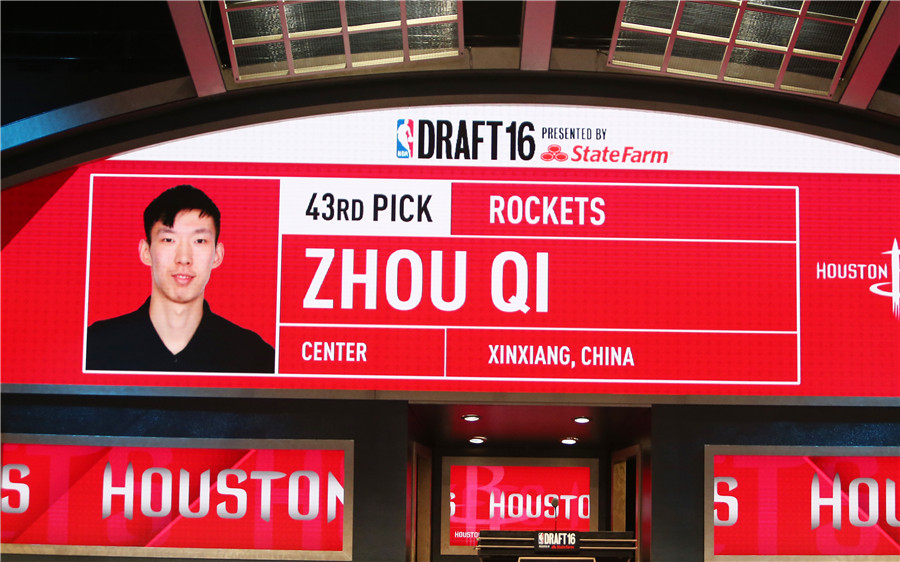 Chinese basketball player Zhou Qi has been selected by The Houston Rockets with the 43rd pick in NBA draft on June 23, 2016. [Photo/Xinhua] 
The Houston Rockets selected China's rising basketball star Zhou Qi with the 43rd overall pick in the NBA draft on Thursday night.
The 20-year-old Zhou led the Chinese Basketball Association (CBA) in blocked shots for the second straight season, averaging 3.2 in 2015-16 for Xinjiang.
The 7-foot-1 forward also averaged 15.8 points and 9.8 rebounds while showing an improved offensive game, making nine of his 15 3-point attempts after going just 1 for 10 the previous season.
Another Chinese player Wang Zhelin has also been selected in the 57th place by the Memphis Grizzlies on Thursday. The 22-year-old center currently plays for the Fujian Sturgeons in the CBA.
Zhou becomes the first Chinese player in the NBA draft in nine years following his predecessors Yi Jianlian and Sun Yue's 2007 draft, and Yao Ming's 2002 draft. Meanwhile, Zhou is expected to be the 6th Chinese player to stage on the US professional basketball court. NBA has been without a Chinese player since 2014 when Yi returned following a mediocre NBA spell.
Zhou's participation in the 2016 NBA draft has been warmly welcomed by Chinese fans. They also compared Zhou with Yao Ming, the most successful Chinese player in the NBA history. As a Chinese basketball icon, Yao served in the Houston Rockets from 2002 to 2011.
Previous media reports suggested his club team Xinjiang, unlike most Chinese fans, seemed reluctant to let Zhou Qi go, saying the time is not right for him to go to the NBA. However, Daryl Morey, the general manager of the Houston Rockets, said Rockets has been in talks with Xinjiang, and Zhou is likely to debut in the upcoming 2016-2017 season.