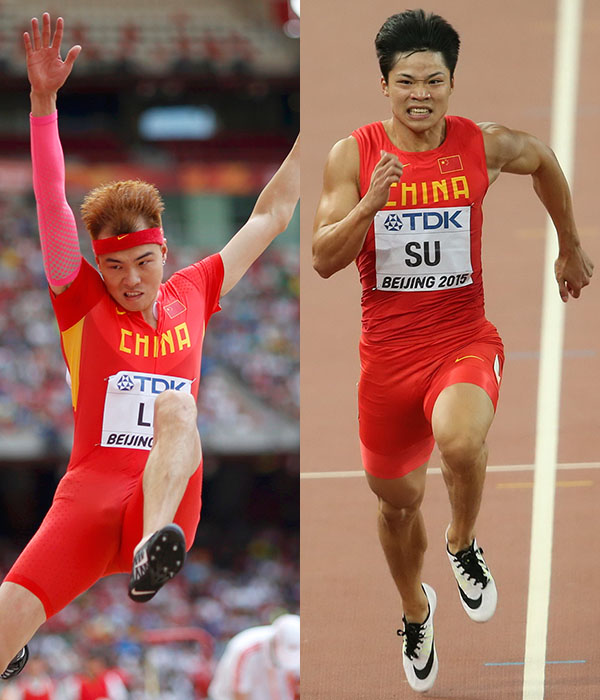 Li Jinzhe (left) competes in the long jump final during the IAAF World Championships at the Bird's Nest, while sprinter Su Bingtian legs it out in the 100m final. They are at the forefront of China's new wave of athletics stars trying to fill the void left by retired hurdler Liu Xiang. Wei Xiaohao and Xu Jingxing / China Daily
Chinese stars ready to take over from Liu
Boasting breakthrough performances on the world stage, a group of promising Chinese athletes have emerged to take the baton from retired Olympic champion hurdler Liu Xiang as the nation's new leaders on the athletics stage.
When Su Bingtian flashed across the 100 meters finish line on the heels of Jamaican star Usain Bolt in the semifinals, and ultimately reached the final of the marquee event at the IAAF World Championships in Beijing on Sunday, the overwhelming cheers at the Bird's Nest drew high praise from Liu, who is working as a guest commentator at the event.
"He reserved his best show for the Bird's Nest and he did it," said the 32-year-old, who announced his retirement in April after failing to overcome a persistent heel injury.
In tying the national record by clocking 9.99 seconds, Su became the first Asian sprinter to reach the 100m final of the worlds.
The boisterous scenes on Sunday night sharply contrasted with the shocking events seven years ago when Liu glumly withdrew from the 110m hurdles' final of the 2008 Beijing Olympics with an Achilles tendon injury, which hushed the 80,000 home crowd.
Su's reaching the final of the 100m has partly made up for that memory.
"I think he did a great job (of qualifying for the 100m final). His performance has left an indelible mark on the history of Chinese sports in general," Liu said.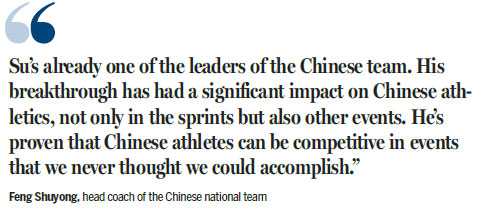 Su is at the forefront of a new era of athletes trying to emulate, or even surpass, the great hurdler.
"Su's already one of the leaders of the Chinese team," said Feng Shuyong, head coach of the Chinese squad.
"His breakthrough has had a significant impact on Chinese athletics, not only in the sprints but also other events.
"He's proven that Chinese athletes can be competitive in events that we never thought we could accomplish."