With the 4x100m relay battle between Jamaica and the United States drawing global attention at the IAAF world championships, an ambitious Chinese team hiding in plain sight is looking for redemption on the big stage.
While the relay event has been a two-horse race in recent years, this year's competition at the Bird's Nest is particularly intriguing for Asian spectators because China and Japan are both poised to qualify for the final on Saturday night.
Boasting sound progress under an American coaching staff, the Chinese squad, led by Su Bingtian, has reignited the dream of qualifying for a second high-profile relay final after accomplishing it at the 2008 Beijing Olympics. In that race China was disqualified for an illegal baton exchange.




China's Su Bingtian (left) and Abdul Hakim Sani Brown of Japan will be in the spotlight as the two Asian nations look to qualify for the 4x100m relay final on Saturday night. David J. Phillip / AP
"With a more talented team and better chemistry, we hope to make up for the mistake at the Olympics and we are looking forward to qualifying for the final and hopefully finishing high," said Su, who tied his national record of 9.99 in the 100m semifinals before becoming the first sprinter from Asia to compete in the final.
Placed in the second heat with the invincible Jamaica, China will face tough competition from Canada and France for the two direct berths to the eight-team final.
The top three in each of the two heats and the next two fastest teams qualify for the final, which is set for 9:10 pm.
As the traditional sprint power in Asia, Japan also has high expectations after reaching the final at the 2013 worlds in Moscow.
Given the wide gap in strength, a podium finish might be out of reach for both China and Japan, but their battle for continental dominance makes for an interesting sub-plot.
"It is impossible to beat Jamaica or the US, but it's a good thing if Japan and China both make it to the final," said Soji Masuda of The Asahi Shimun, Japan's most influential newspaper.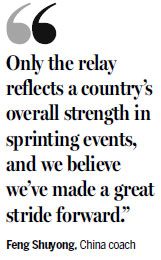 "Japanese athletes used to have an edge over the Chinese, but since the 2013 world championships, where Zhang (Peimeng) clocked 10.00 seconds to narrowly miss out the 100m final, Japan sees China as a serious rival.
"I was glad to see Su make the final for the first time. All the Japanese athletes took it as positive motivation as well - though they felt a little sorry they didn't do it."
Boasting a promising team of Su, Zhang, Xie Zhenye and Chen Shiwei, China broke the 4x100m Asian record previously held by Japan by clocking 37.99 seconds en route to the gold medal at last year's Asian Games.
Feng Shuyong, head coach of China's national track and field team, believes the stability of the 4x100 squad could help it produce a breakthrough result.
"Only the relay reflects a country's overall strength in sprinting events, and we believe we've made a great stride forward," said Feng.
Meanwhile, the absence of injured star Yoshihide Kiry has cast a shadow on Japan's chance of reaching the final, although unheralded teenager Abdul Hakim Sani Brown, who won the 100m and 200m at the world youth championships last month, has been a fine addition to the team.
Results
Podium finishers at the Bird's Nest on Friday:
Women's 20km race walk
1. Liu Hong(China) 1:27:45; 2. Lu Xiuzhi(China) 1:27:45; 3. Lyudmyla Olyanovska (Ukraine) 1:28:13
Men's 110m hurdles
1. Sergey Shubenkov(Russia) 12.98sec; 2. Hansle Parchment(Jamaica) 13.03sec; 3. Aries Merritt(USA) 13.04sec
Women's long jump
1. Tianna Bartoletta(USA) 7.14m; 2.Shara Proctor(Britain) 7.07m; 3. Ivana Spanovic(Serbia) 7.01.
Women's 200m
1. Dafne Schippers(Netherlands) 21.63sec; 2. Elaine Thompson(Jamaica) 21.66sec; 3. Veronica Campbell-Brown (Jamaica) 21.97sec
Women's 100m hurdles
1. Danielle Williams(Jamaica) 12.57sec; 2. Cindy Roleder(Germany) 12.59sec; 3. Alina Talay(Belarus) 12.66sec
sunxiaochen@chinadaily.com.cn