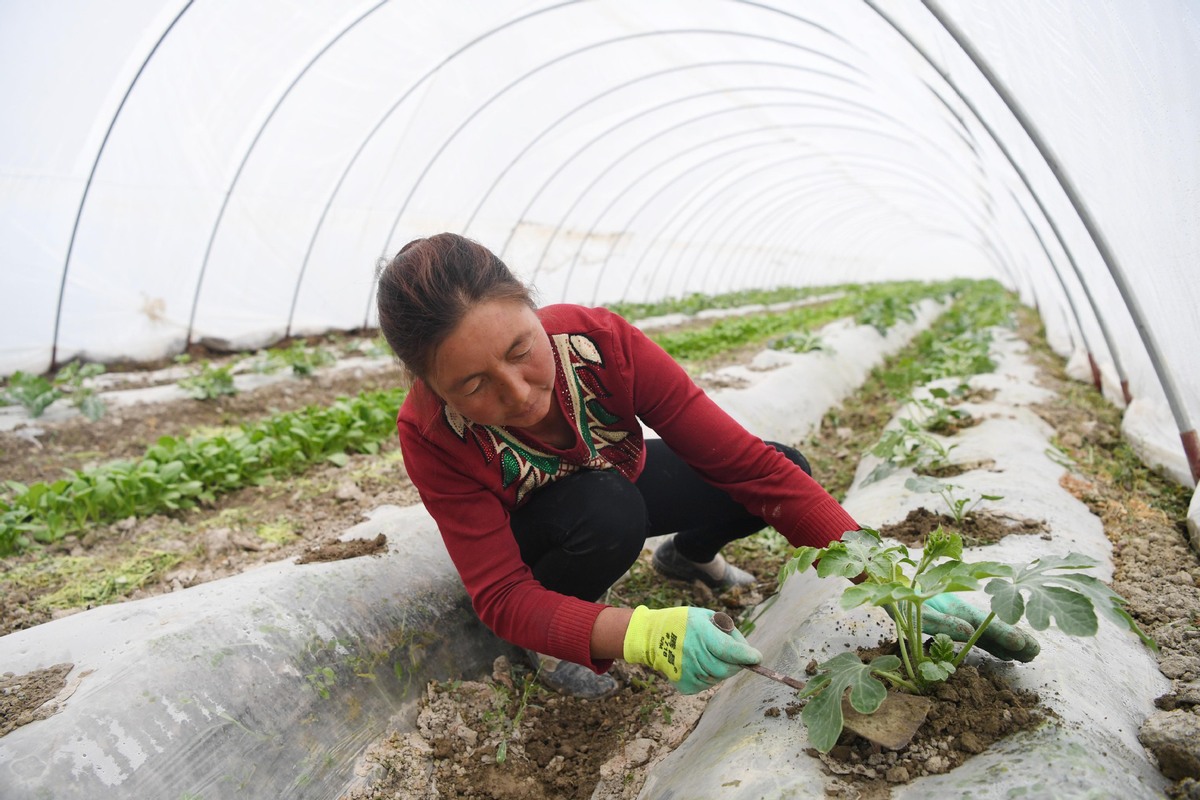 A farmer works in a greenhouse at the Aksu prefecture in the Xinjiang Uygur autonomous region, April 29, 2019. [Photo/Xinhua]
The "decisive fight" the government is spearheading against poverty, targeted at an official farewell to the curse of absolute poverty and the dawning of an all-round well-off society is set to be won.
That this has been a hard-won victory cannot be doubted. It is cause for reflection to learn on the sixth national Poverty Alleviation Day, also the 27th International Day for the Eradication of Poverty, that nationwide more than 770 officials had sacrificed their lives in the cause of poverty relief by the end of June.
The most common causes of death have been overwork and natural disaster-related accidents. Flash summer floods and landslides, for instance, were frequently responsible.
This is because, after decades of persistent efforts to tackle poverty, the groups remaining below the poverty line are mostly concentrated in out-of-the-way locales where natural conditions are harsh, public facilities, if any, are scarce, and efforts to help them entail extraordinary endeavors.
Since the campaign of targeted poverty relief was inaugurated in 2014, more than 3 million Party and government officials have been sent to poverty-stricken communities to make sure the "centennial goal" of eliminating poverty by next year is accomplished on time.
These officials are racing against time in the country's remotest, poorest corners in hostile environments.
That, in the six years since the 18th National Congress of the Communist Party of China, the country has lifted 82.4 million people out of poverty, to become the first to fulfill the United Nations millennium development goal, and will see 95 percent of people remaining poor by current criteria get rid of poverty by year's end would not be achievable were it not for their strenuous efforts.
It is these largely unsung heroes and heroines who are on the front line in the battle against poverty.
It is consoling to see the State Council Office for Poverty Relief issue a special document accentuating safety guarantees for this task force, and exempting liabilities for those who fail to meet deadlines owing to truly difficult conditions. But more importantly, policymaking and implementation must face the reality that poverty relief is a dynamic and ongoing process.
The country's experiences hold sufficient evidence that people who have escaped poverty can easily slide back in due to unforeseen circumstances. Poverty will not vanish for good unless the poverty alleviation work persists in the years ahead and guarantees are in place to consolidate the forming of a moderately prosperous society.