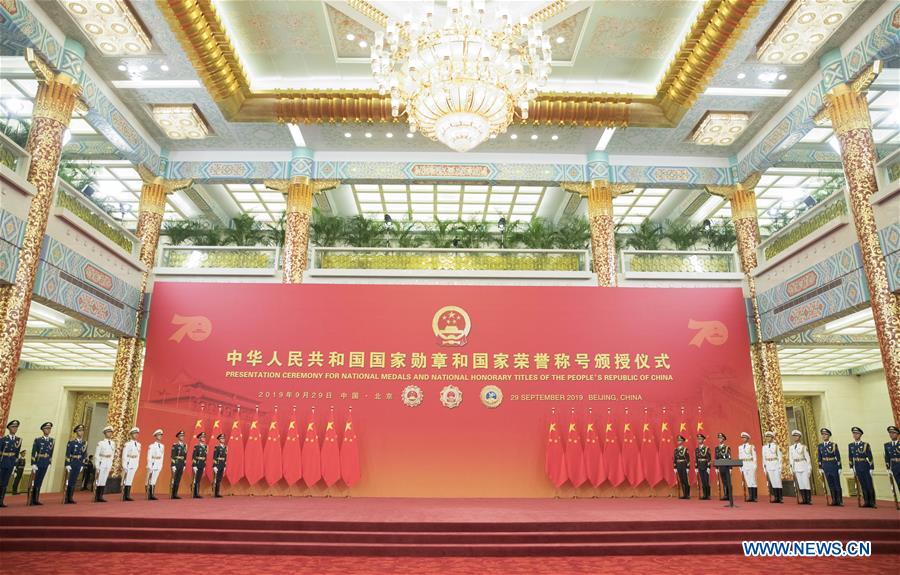 Photo taken on Sept 29, 2019 shows the venue of the presentation ceremony at the Great Hall of the People in Beijing, capital of China. [Photo/Xinhua]
Although the 42 recipients of national medals and honorary titles were disclosed last week, the awards ceremony in the Great Hall of the People in Beijing on Sunday, still moved many who saw it to tears.
Blending into the bigger backdrop of the 70th anniversary of the founding of the People's Republic of China, those who received the awards with staggering steps or unbending stature in wheelchairs, along with those unable to attend the ceremony, were honored for their extraordinary achievements and the "greatness that comes out of the ordinary" as President Xi Jinping said in his remarks.
As Xi observed, "every ordinary person can have an extraordinary life" and the awards were recognition of the recipients' dedication to their work and their humbleness in making huge sacrifices without pursuing fame or self-interest.
People should be inspired by their loyalty, perseverance and modesty, qualities that epitomize the lives and struggles of ordinary people.
That is why the awards ceremony, which features the highest State honors for individuals, was so moving and stirred the hearts of those watching.
Unlike before, the live broadcast of the ceremony started from the motorcade bringing the awardees to the event. With a police motorcycle escort, they passed along the usually busy Chang'an Avenue, which was emptied for them exclusively, to Tian'anmen Square before reaching the Great Hall of the People. This showed how highly the State regards these heroes and role models.
This was also shown in the rapport and thoughtfulness demonstrated toward the awardees by Xi, which was caught on camera and noticeable in his body language.
Over the past 70 years, many people have been hesitant to press forward at times of setbacks and crisis. But there have always been some willing to strive forward, with the belief and confidence that these obstacles can be overcome. And history has proved them to be right, as the country has successfully prevailed over every challenge it has faced. The lives of these outstanding representatives of the people prove that everybody can make their own valuable contribution to the nation.
Today, the country has the best conditions for its development in 70 years, but at the same time it also faces unprecedented challenges. But by learning from the examples of these role models, the Chinese people will be able to overcome any difficulties. Through their own hard work and conviction, they will be able to make their own unique contributions to the rejuvenation of the nation.