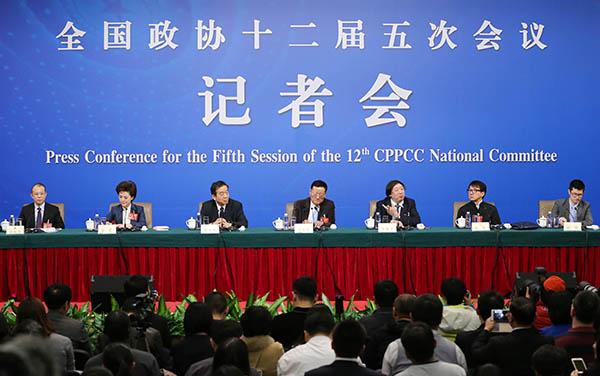 Members of the 12th National Committee of the Chinese People's Political Consultative Conference (CPPCC) Liu Changle (C), Feng Jicai (3rd R), Su Shishu (3rd L), Jackie Chan (2nd R) and Hai Xia (2nd L) attend a press conference for the fifth session of the 12th CPPCC National Committee on consolidating confidence in Chinese culture and telling stories of China and its people in Beijing, capital of China, March 7, 2017.[Photo by Wang Zhuangfei/China Daily]
The 11-day annual session of the 12th National Committee of the Chinese People's Political Consultative Conference, China's top political advisory body, offered a good chance for its more than 2,000 members to pool their professional experience and wisdom and put forward suggestions on the issues of greatest concern to the general public, which range from poverty relief to food safety to environmental protection.
The significance of this system of political consultation and supervision should never be underestimated, as it plays an irreplaceable role in guaranteeing good governance.
The system is representative of the country, as its members come from all social and industrial sectors, political parties and ethnic groups, representing the interests of people from all walks of life.
The policies drafted by the top leadership will largely incorporate these political advisers' suggestions, which have been collected directly from the people and thus reflect their needs. In this way government policies are people-oriented.
This was highlighted again in the priorities of suggestions accepted during this year's session of the CPPCC National Committee, which concluded on Monday. Of the more than 4,100 proposals accepted, 34.7 percent are related to economic issues, 35.5 percent to social issues, and the rest cover political, cultural and ecological issues.
These suggestions will not be just pieces of paper. Rather, they will be handled seriously and materialize into major State initiatives. The China (Shanghai) Pilot Free Trade Zone, for example, which was launched in 2013 as a testing ground for a number of the country's economic reforms, was developed from a proposal of Shanghai political advisers.
As suggested by its name, the CPPCC features consultative democracy, rather than the confrontational democratic systems witnessed in many other countries. This democratic system, born out of China's culture and tradition, suits China's reality, and has proven effective in guiding the country on its fast track of economic and social development and remarkable improvement in people's livelihoods.
As President Xi Jinping has said, the essence and core of socialist democracy is that people are the masters of themselves. This is actually what the CPPCC is all about. It is of the people, from the people and for the people.
It has enabled China to achieve, within decades, what other major industrialized nations have taken hundreds of years to achieve. And it will continue to help the country, already the world's second-largest economy, make further progress and realize its grand goal of national rejuvenation.