Just on Saturday night, police in South China's Guangdong province caught 1,162 drink drivers and 78 drunk drivers. Each was punished and all the drunk drivers were taken into custody. Similar checks and arrests were also made in other cities over the weekend.
Saturday was the first day of a two-month-long nationwide campaign launched by the Ministry of Public Security to crack down on drink and drunk driving, after several recent cases in Nanjing, Hangzhou, Chengdu and Shanghai triggered huge media attention and public indignation.
Although many feel that more innocent lives could have been saved if the crackdown had been initiated earlier, they still pin high hopes on this crusade to wipe out the rampant drink and drunk driving and other reckless driving on our roads.
In the first half of this year, 222,000 people on the Chinese mainland were found driving under influence (DUI), up 8.7 percent over the same period last year. In Beijing, DUI was responsible for the loss of 97 lives in accidents during the first six months.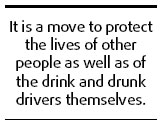 Our roads have simply become the most dangerous in the world. With three percent of the total vehicles in the world, the country accounts for 16 percent of the global traffic deaths.
So the announcement by the Ministry of Public Security last Friday to mete out the toughest punishment to violators is a move in the right direction. It is a move to protect the lives of other people as well as of the drink and drunk drivers themselves.
Of course, this is not the first time that the police force has decided to strike out against DUI. Three campaigns were already held earlier this year. Yet the fact that this phenomenon is still so widespread on our roads shows the need for better strategies.
First, our laws should be made tougher to show zero tolerance to such murderous driving. Many countries, such as the United States, Sweden and Singapore, have stricter punishment for DUI.
Second, police officers should enforce the law at all times and in all places, leaving no gaps of which violators can take advantage. Crackdown on DUI is not something that should be carried out for only two months or for the 60th National Day. It should stay as long as there's dangerous driving on our roads.
Third, while laws and punishments are necessary, we should start educating our population about the threat of DUI on others' lives. While drivers should restrain themselves, our drinking culture, which often means endless rounds of bottoms-up, needs to be checked.
Each year traffic accidents take away more lives in China than any other mishap. An all-out war on drink and drunk driving and other forms of rash driving should definitely be a national priority.
(China Daily 08/17/2009 page4)