Only when the memories of a city survive generations of its residents will it be possible to have cultural appeal. Historical buildings are physical reminders of these memories. The demolition of historical structures in a city is equivalent to the elimination of its memories.
An old courtyard once inhabited by Lu Xun, one of the most well-known novelist and essayist in the early years of the last century, is slated to be demolished. This has riled up many, who have been complaining that Beijing is losing its cultural appeal due to the rapid loss of its ancient structures.
As the capital of the Ming and Qing dynasties (1368-1644), Beijing is a city of historical interest. And thanks to the series of political activities that took place in the early parts of the last century, Beijing is the birthplace of the May Fourth movement. As a result, the city boasts a multitude of courtyards and residences previously inhabited by historical figures or social celebrities.
Unfortunately, at least a third of these residences have been demolished for more than a decade to make room for real estate development projects.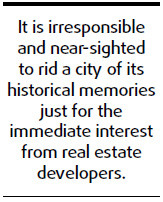 In the fight between the protection of cultural heritages and the rise of urban development, the former has been losing ground. Statistics show that the number of four-sided traditional courtyards known as siheyuan has dropped by 80 percent in the past 50 years.
This has much to do with the lack of vision from the local government. It has placed the ever-increasing prices of land in the downtown areas before the intangible value of cultural relics. Most of these traditional courtyards, some of which used to house princes of the Qing Dynasty, are clustered in the central area of Beijing. It is natural for real estate developers to covet these areas. But the local government has the right to protect them and must do so.
The mass demolition of these courtyards, most of which have even been designated as places of historical interest under the protection of the municipal or district governments, indicates the local government's lack of respect for the cultural identity of this ancient city.
In this country, local government officials only pay lip service to the protection of cultural relics. None of them would deny the importance of cultural relics on public occasions. Yet, the trend of mass demolition of historical buildings or streets in almost all urban renovations across the country points to these officials' preference for immediate economic growth.
Such preference actually poses a threat to the sustainable development of these cities. None of them will be able to always maintain its economic growth by real estate development. Yet, a city's cultural appeal, an ancient city in particular, will always be there and will be stronger with time.
It is irresponsible and near-sighted to rid a city of its historical memories just for the immediate interest from real estate developers. History will show how serious this mistake from the local government will be.
(China Daily 08/22/2009 page4)