The fees karaoke bars have paid for music they use should undoubtedly go to musicians. But half of the fees collected now is pocketed by the Chinese Association of Audio/Video Copyright Management.
In the three years since the association initiated the collection in the name of intellectual property protection in 2007, 170 million yuan ($24.9 million) has been collected from karaoke bars in 26 provinces and autonomous regions. But musicians haven't received a penny. The association reported from its meeting held earlier this week that it will give half of the collected money to musicians.
As to why the association pocketed the other half, its authorities say that the costs are high for the collection of the fees. But it fails to clarify how high the costs are.
Related readings:



 Google urged to respect IPR



 Another push for Expo IPR protection



 Kingdream: a company built on IPR


 Answering questions about IPR claims, counterclaims
Finally it has dawned on us why the association has been so enthusiastic and determined to collect fees for music copyrights despite the strong opposition from karaoke bars. It is not because the association strongly believed that musicians should be paid for the use of their music, but because those in the association with vested interests can reap a large share from the fees.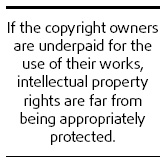 There was strong opposition to the idea at the very outset. One of the reasons was how the association would distribute the money and how it could make sure that musicians get their due payment. Many were actually skeptical of the association and said it would become the biggest beneficiary by abuse of power.
Now it seems that the skeptics are right since the association has never disclosed a detailed account of how much money it has spent in collecting the fees. Neither has it explained how it will spend half of the collected money it has kept.
In this seemingly reasonable game, power has become the biggest beneficiary. Intellectual property rights protection has turned out to be just a facade for those in the association to make money.
If the copyright owners are underpaid for the use of their works, intellectual property rights are far from being appropriately protected. If those who have the deciding power are paid the greater share from the collection, it not only brings derision into the protection of intellectual property. It also reflects on how unbridled power can be without proper supervision.
This is a typical abuse of power. A just cause is always used as a cover, but actually those wielding the power behind the cover know exactly where their interest is and how they can get the biggest share. This borders on money laundering. By abusing the power in their hands, they don't need to work but can grab interests from those who have actually created the wealth.
The message is that it is not important whether one has the ability to create wealth, what matters is whether you have the power to redistribute the wealth. The result will be to worship power rather than creativity.
(China Daily 02/08/2010 page8)