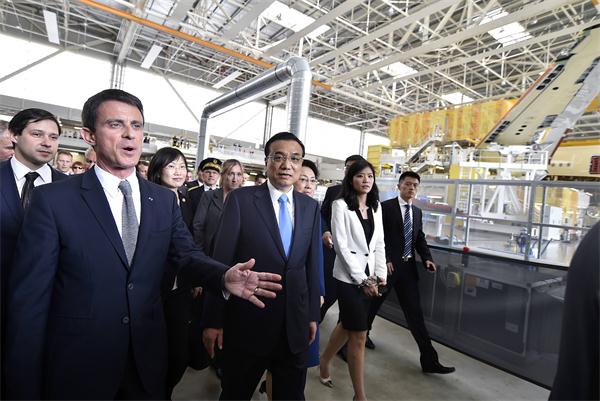 Chinese Prime Minister Li Keqiang (C), and French Prime Minister Manuel Valls (L) visit the Airbus A350 assembly plant on July 2, 2015, in Colomiers near Toulouse, southwestern France, ending Keqiang's three-day visit to France. [Photo/IC]
Promoting international cooperation in production capacity is the theme of Premier Li Keqiang's visit to Europe. Deepening China-EU cooperation in production capacity will turn a new chapter in their pragmatic cooperation and contribute to the growth of the two economies and the world economy at large.
At the 17th China-EU leaders' meeting held on Monday in Brussels, the two sides expressed great interest in aligning the European Fund for Strategic Investments, known as the Juncker Plan, with the initiative for international production capacity cooperation championed by Li, and jointly seek cooperation with third parties.
The alignment will allow China's comparative advantages in production capacity and equipment manufacturing to be combined with the advanced technology of European economies, and thus open up new horizons for multilateral cooperation.
During Li's trip to France, which is his first official visit to the European country as the head of the Chinese government, Sino-French cooperation in production capacity has continued to feature prominently. On Tuesday, the two countries agreed to set up a mutual fund to support their joint cooperation with third parties and strengthen their in-depth industrial cooperation.
China-EU cooperation in production capacity can serve as an effective medicine to the sluggish recovery of the global economy and weak market demand. Under the backdrop of China's slowing economic development and the EU's multiple difficulties in shoring up growth, the two sides have a lot to share and both will benefit from cooperation.
China has a full-fledged construction material production capacity, and relevant made-in-China equipment is widely adaptable. It is also encouraging its best enterprises to actively participate in multilateral infrastructure construction projects, such as the Trans-European Transport Networks, China-Europe Land-Sea Express Line and New Eurasian Continental Bridge.
Europe, meanwhile, boasts advanced and valuable technologies to update China's equipment and manufacturing capacities.
European enterprises can also garner decent economic returns by joining the Silk Road Economic Belt and the 21st Century Maritime Silk Road programs, proposed by Chinese President Xi Jinping in 2013 with the aim of revitalizing the ancient trade routes.
Such an encouraging scenario will no doubt lead to win-win outcomes for China and the EU as well as usher in all-win results for world economic development on the whole. We have every reason to wish the plan a great success.