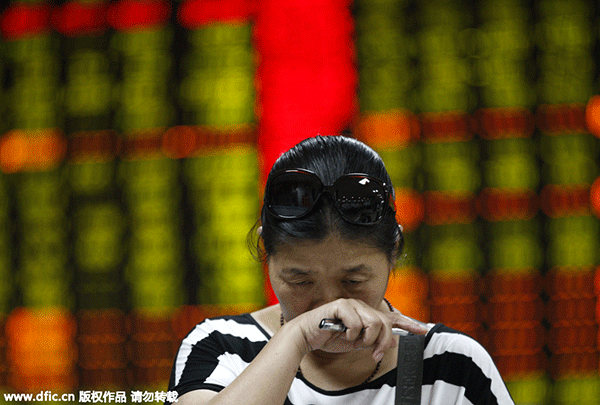 An investor wipes her nose at a stock brokerage house in Huaibei city, Anhui province, July 2, 2015.[Photo/IC]
The central government has made a series of new decisions to help arrest the recent speculative sell-off in domestic stock exchanges.
To the surprise of many, in the absence of any clear and present shock to the world's second-largest economy, the sell-off has already chopped the total market value of Chinese shares by about 30 percent since its more than 10 trillion-yuan peak in early June. Unavoidably, painful losses have been seen by some investors, especially those highly leveraged funds that used to be the most daring players in the market.
Too wild fluctuations are both unwarranted and unwanted, because they hurt small investors and may cause a panic and other complications that affect the state of the real economy.
Freezing new share offers and setting up a market-stabilization fund are among the latest moves the government has taken to interfere with the market. Additional moves may still come along if they are deemed necessary.
Necessary as interference is, it will have to be temporary. It should not constitute a reversion in the market-oriented reform that China has maintained for the past 30 some years. The stock market has a healthy role to play. Only, rules have to be clear and effective to prevent irresponsible risk-taking - under a more capable industry regulator.
In the long run, investors will need more, rather than fewer and more limited, investment instruments, to diversify their risks and the risk of the whole market. The reform plan that the Chinese leaders adopted, in all solemnity, in their Third Plenum in 2013, must be adhered to.
The current intervention can only serve to help the nation steer clear of a self-inflicted financial crisis and grow more mature in managing its financial market.
From its experience in dealing with the stormy fluctuations in the last few weeks, China can learn useful lessons and develop a better mix of government regulation and market incentives for its inevitable opening up to the global financial market in the coming years. The trillion-yuan losses in the value of Chinese shares is a price too dear for the country to pay twice.
After all, the mini-crisis in the domestic stock market is not a system failure. It is far from a failure of the Chinese economy. As the benchmark index remains 80 percent higher than a year ago, there is a good reason to believe that most investors will still see some encouraging returns in the end of the year.