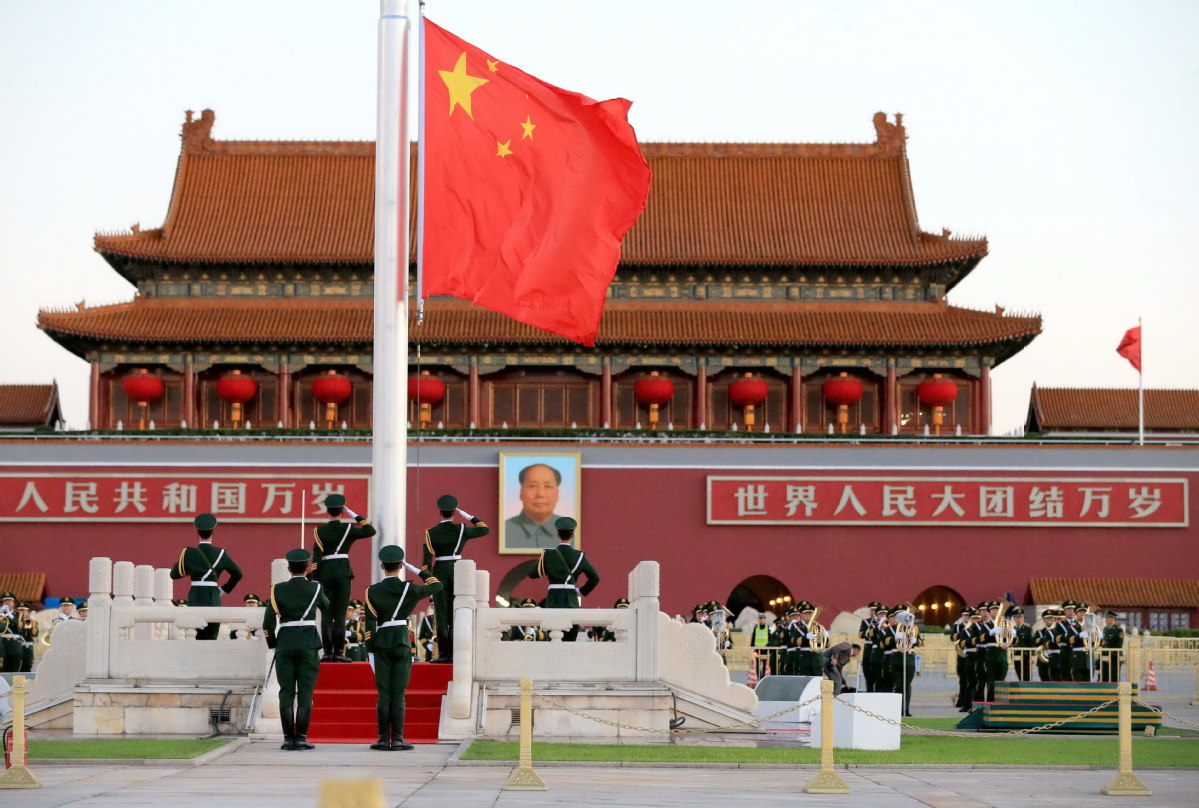 Soldiers raise China's national flag at Beijing's Tian'anmen Square on Oct 1, China's National Day. [Photo/Xinhua]
The Standing Committee of the National People's Congress will complete reviewing the draft amendments to the Law on the National Flag and the Law on the National Emblem on Tuesday. The authority had approved the flag and emblem laws in June 1990 and March 1991 respectively. The draft amendments under review are the first ones to them in the past three decades.
The draft amendments focus on the dos and don'ts with regard to displaying the national flag and the national emblem and introducing regulations for the national flag-raising ceremony.
The proposed amendments include provisions for prohibiting behavior that compromises the dignity of the national flag and the national emblem. For instance, the draft prohibits people from displaying the national flag upside down or in a way that compromises its dignity; randomly abandoning the national flag is also prohibited.
Citizens or organizations posting the national flag on the internet should also abide by relevant internet regulations. The draft amendments suggest pressing of criminal charges against people who insult the national flag in public by burning, destroying, defacing or stamping on it.
The draft amendments propose creation of greater awareness among the public, particularly juveniles, about the national flag and the national emblem, so that an environment to promote respect for the two national symbols is created.
The draft amendment proposes that full-time schools incorporate education about the national flag into patriotism education, in order to cultivate the spirit of patriotism among students. It also requires them to unfurl or display the flag during important events and on holidays such as the National Constitution Day.
As the national flag and national emblem are the country's symbols, it is important to introduce clear regulations on their usage so as to safeguard them and instill patriotism among the people.