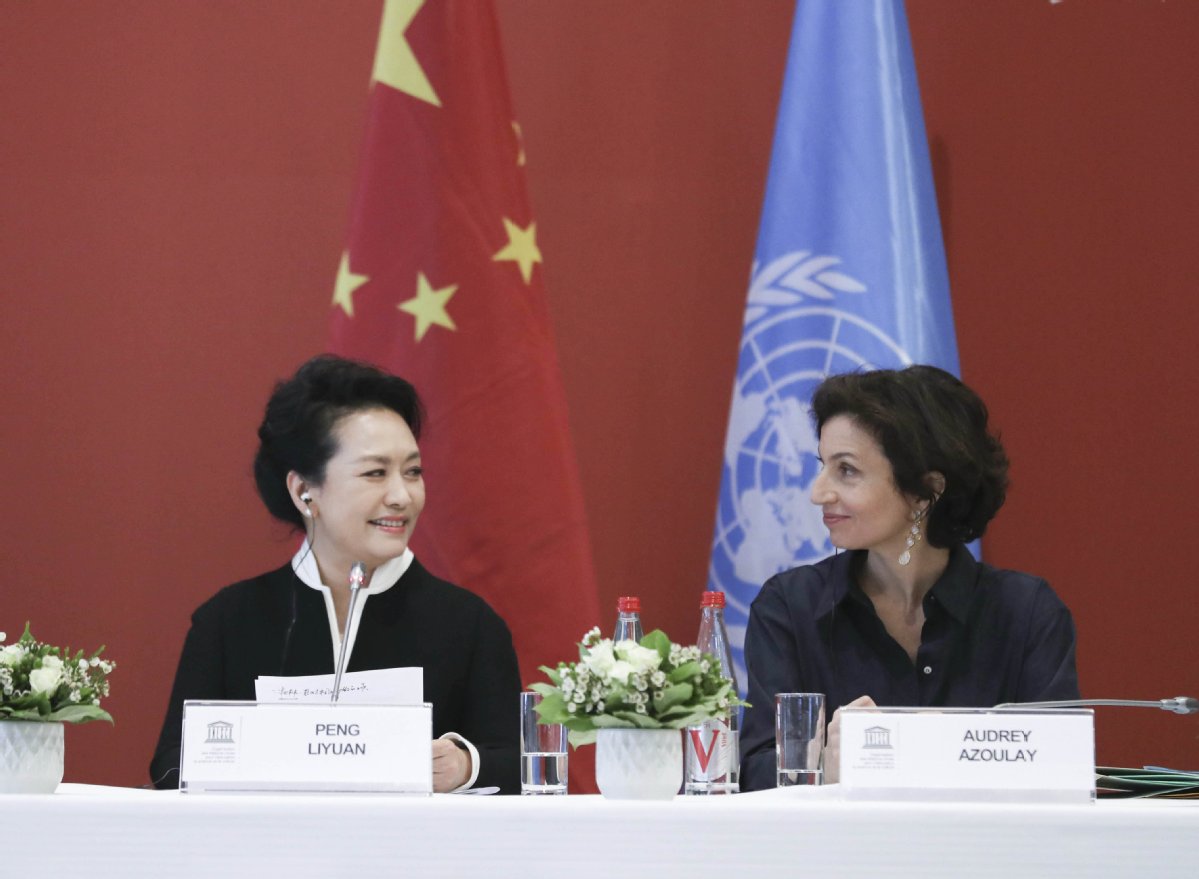 Peng Liyuan, UNESCO special envoy for the promotion of girls' and women's education, attends a meeting with Audrey Azoulay, UNESCO's director-general, in Paris, March 26, 2019. [Photo/Xinhua]
When China is approaching the center of the international stage, concerns and misgivings rise alongside on how this 'non-liberal' and 'non-western' emerging country will interact with the established international order, through both bilateral and multilateral channels. Some are inclined to define China's incremental involvement in international organizations as an attempt to revise the international order and global governance system. Nevertheless, such conclusions are often led by ingrained presumption of China as an 'embedded revisionist', omitting its actual activities, behaviors, logics and intentions on multilateral platforms. Far from conclusive, they are rather elusive. This article will focus on China's practices in UNESCO, which could epitomize its conformist and constructive approach to multilateralism and the global governance as a whole.
UNESCO, mandated to build the defense of peace in the minds of women and men, is a typically western-value dominated organization. If the post-war international institutions are mostly founded on the liberalist aspiration, UNESCO is especially so and characterized by its persistent, progressive, and sometimes utopist endeavor to promote moral and intellectual solidarity of human. The People's Republic of China, a founding member of UNESCO, was invited by the Senegal UNESCO Director-General at the time to resume its legitimate seat in the organization in 1971, four days after China's return to the United Nations. Since then, China has been a determined supporter to UNESCO with increasing and unconditional contribution.
China's assessed contribution to UNESCO has augmented drastically in the last decade, from less than 5 percent to more than 15 percent, surpassing the share of Japan in 2019. While it is not rare that big donors exert pecuniary pressure to international organizations for political purposes, China has never played the card of financial resources to impose its idea or to put forward any unilateral initiative. As in other international organizations, China remains highly conscientious that Member States should keep UNESCO function and deliver, by honoring their political and financial commitments. Therefore, China keeps supporting UNESCO in all fields of its competence.
An important moment worth recalling is the November 10 of 2017, when the 39th General Conference of UNESCO elected the former French Minister of Culture and Communication, Ms. Audrey Azoulay to be the new Director-General. The withdrawal of the United States, also a founding member of UNESCO, announced in the wake of the election signals a negation to the multilateralism and the 'embedded liberalism' that the US and its European allies had held dear over the past decades. And, it is déjà vu to the US's previous retreat from UNESCO 30 years ago. By contrast, China extended its congratulations to the newly elected Director General while accepting its own candidate's failure in the election. Furthermore, China reiterated its commitment to the organization and continued its cross-board collaboration with UNESCO in the new era. If there is a 'liberal international order' towards which the authors of the report expressed concerns, it seems that China is sparing no effort to uphold, rather than to undermine such order.
Then it is necessary to examine the overall partnership between China and UNESCO to describe China's approach in global governance in an objective manner. First, some 'hot' arguments concerning China-UNESCO partnership are actually too inconsequential to depict the picture. For example, the Yuelu proclamation frequently cited is far from a signature initiative within UNESCO, and even can't count for a major project of collaboration. The meeting where it was issued was basically a domestic event in promoting linguistic diversity with some sort of nominal sponsorship from UNESCO. Besides, in most literature, the internalization of One Belt One Road Initiative (BRI) in UNESCO's programmes and projects is overstated. Till now, no specific programme or project of UNESCO-China collaboration is implemented or launched in the name of BRI, or is directly connected to it.
So what is China doing with UNESCO? The partnership is actually based on two pillars which are the two global priorities of UNESCO: Africa and gender equality. The real flagship programme of China-UNESCO collaboration should be the UNESCO Funds-in-Trust for education in Africa. Launched since 2012, the programme has been supporting teacher's education in 10 Sub-Saharan countries in Africa, benefiting more than 10000 African teachers who have honed their skills in harnessing modern ICTs in service of literacy and professional training. This programme is financed by the Chinese government with $2 million dollars each year, and implemented by UNESCO in close collaboration with African countries. Although China is not the only country supporting education in Africa through UNESCO, the Funds-in-Trust programme has been widely recognized as a successful example of South-South cooperation on the multilateral platform.
Another prioritized field of collaboration is girls' and women's education. China has been unremittingly advocating for the fundamental human rights and dignity of women, domestically and internationally. With UNESCO, China proposed and sponsored in 2015 the first ever international prize to reward, highlight and promote good practices in advancing girls' and women's education. Professor Peng Liyuan, the wife of Chinese President Xi Jinping and UNESCO Special Envoy for Girls' and Women's Education, attended several times the awarding ceremony of the Prize, and diligently spoke for UNESCO's work in this regard on various occasions, such as the former UNSG's Global Education First Initiative meeting on the sidelines of the UN General Assembly. These activities demonstrate not merely the First Lady's personal dedication for the cause, but also the high importance China has attached to UNESCO's global priority of gender equality.
The above collaborations, among lots of others, could cast a light on China's genuine practices in UNESCO, which focus solidly on the low-political areas of education, sciences, culture and so on, and are substantiated by the provision of international public good, beneficent for developing countries and disadvantaged people on one hand, and voicing out the ideal and universal values embodied by UNESCO on the other.
A further example of China's support to UNESCO's liberalist vision is the rebirth of the Courier magazine. The Courier has long been UNESCO's signature platform for the diversity of culture and thoughts as well as its incarnation of 'laboratory of ideas', underpinned by the respect for liberty of expression. This world-widely popular magazine, issued in over 60 languages at the zenith, was forced to shut down in 2006 due to financial difficulties of UNESCO caused by the arrears of contribution of some Member States. It took more than 10 years for the magazine to embrace its nirvana, with a generous and again unconditional contribution from China. According to the logic of 'embedded revisionism', the relaunched UNESCO Courier should have become a propaganda tool serving the Chinese BRI or even the communist revolutionary ideology. Rather, it remains to be a lively stage of harmony in diversity, as its slogan states: 'One world, Many voices'.
It is true that China is more and more active in UNESCO, and in a broader sense, on the international stage. However, this activeness is commensurate with China's willingness and capacity to play the role of a 'major and responsible State', aligned with the international society's efforts to achieve the 2030 Sustainable Development Goals. From this perspective, China, the emerging advocator, is no difference from the traditional major supporters of UNESCO, like the Nordic countries, Japan, South Korea etc. Naturally, some might be skeptical about why China behaves so, and what interest it is seeking from international organizations.
Firstly, China's participation in multilateral affairs, and in UNESCO's affairs in particular, should be explained by the theory of functionalism. Bearing in mind that it's at the onset of the Reform and Opening up in the late 1970s that China actually rekindled its engagement with UNESCO, it is easy to understand that China wished to re-open its doors and learn to refit into the international society through the window of UNESCO. In fact, many developing countries benefited from intellectual resources of UNESCO to ignite or accelerate their national socio-economic development. For instance, the former UN Secretary-General Ban Ki-moon often used the example of UNESCO's aid in providing textbooks to the South Korea in the aftermath of the peninsular war, to underline the importance of education and so as to comment the leading role of UNESCO in advancing international education development agenda. Even today, China is still a moderate learner in UNESCO, to keep up with the mainstreaming ideas of equitable and quality education, sustainable management of cultural heritage, humanist approach of harnessing artificial intelligence and so on. China believes that the pragmatic cooperation promoted by UNESCO will not only contribute to more balanced and sustainable development, but also can 'spill-over' to create a friendly international environment enabling the development process.
Furthermore, China wishes to demonstrate through the 'liberalist' platform of UNESCO a pluralist approach to global governance, in order to convince the international society of its peaceful rise without intention to demolish the present international order, established and still led by the cluster of western developed countries. It's essential to come back to the report of the 19th National Congress of the CPC, which explicates China's principles of engaging in global governance as consultation, collaboration and shared benefits. In parallel, China repeatedly reaffirms its conformity with and support to the existing international system with the United Nations as its core. The reasoning lies in the logic of constructivist reciprocity: China needs a peaceful world to achieve national rejuvenation, and therefore China should strive to preserve the world peace with conformist behavior and constructive contribution. Drawing on these official discourse and the logic behind, it is certain that the rising China intends to be a status quo State, rather than a revisionist one, despite that the rising itself constitutes a variable to the status, which easily leads to suspicion and precaution from the outside world of 'Realpolitik'.
Fully aware of this fact, China indeed needs to strive to demonstrate its good faith in peaceful coexistence with countries of different political institutions, philosophy, ideology, history and culture, for the understanding and respect in return, if not yet thorough acceptance and identification. The discourse it adopts such as 'building a community of shared future for mankind' might sound different with the 'universal values' in the western political philosophy, but the views of pursuing peace, development, shared prosperity are not antithetical to anyone's values and core interests. Moreover, it coincides with UNESCO's appeal for respecting differences and promoting diversity. This is why the Chinese President Xi elaborated the idea of exchanges and mutual learning among civilizations on the tribune of UNESCO, where a pluralist, not particularistic view of the world is deemed relevant.
The argumentation of this article is far from exhaustive to be able to justify for a rising China in peace. However, it tries to remind observers and scholars to avoid the false dichotomy of the emerging China being an identical western liberalist entity which has changed completely, or an 'embedded revisionist' power to intentionally subvert the international system. The identity of China is not given, and the process of its interaction with outside world through international organizations is complex and ongoing, as briefly depicted in the case of UNESCO. The really important question is how to avoid misperceptions in the international politics, and to put China's intention of peaceful coexistence and shared development into reality. It requires constant efforts from China for sure, but also from the genuine and open-minded interaction from others, the western powers in particular. Otherwise, a narrow-minded and paranoid view may risk making the 'embedded-revisionism' a self-fulfilling prophecy.
The author is a PhD candidate of the School of International Studies at Peking University.
The opinions expressed here are those of the writer and do not necessarily represent the views of China Daily and China Daily website.