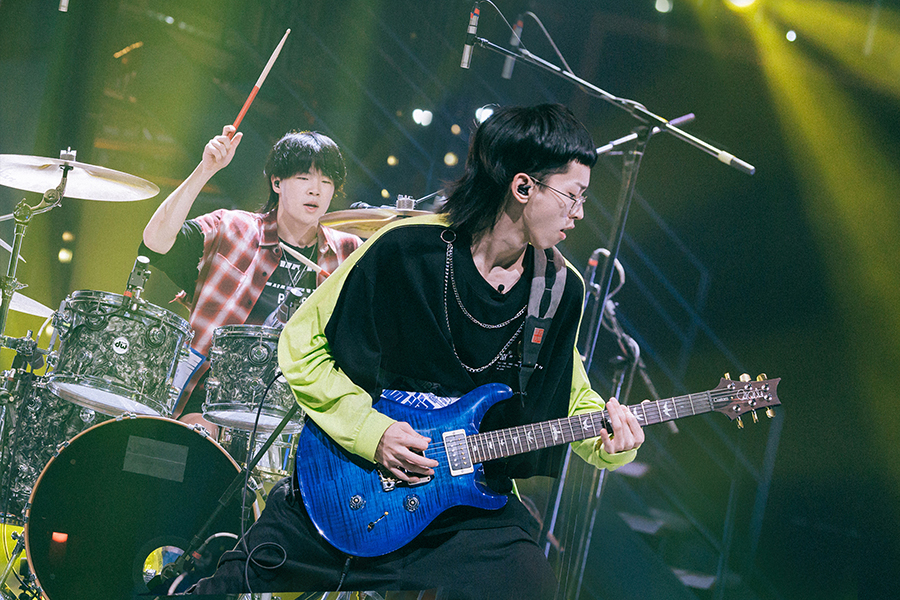 Forty contestants, all men aged around 20, of the fourth season of reality show The Coming One gather at the same place in Wuxi, Jiangsu province, for the show-they play, perform, live and study together, as well as form their own groups and share music. [Photo provided to China Daily]
Guitar riffs, the rumble of drums. The sound of the beat reverberates throughout the colorful fourth season of The Coming One, a reality show by Tencent Video, which premiered on July 11.
Previous seasons of the hit show have focused on individual performances to uncover the next big star, but this time around the show looks at what it takes to form a band. Forty young Chinese musicians, all men aged around 20, from instrumentalists to singers and rappers, take part in the show.
Titled The Coming One: Superband, the show gathers the participants together with the theme of "campus"-they live, study and share music together at the same place in Wuxi, Jiangsu province.
Through numerous rounds of competition, they form bands, write songs and perform together and march, or not, to final glory. A new band, consisting of five members, will be formed by the show.
"We spent over six months preparing for the fourth season of The Coming One, especially researching the history of famous bands and learning about the success stories," says Zhang Pei, director of the reality show.
"I've learned that many great bands in the world started off as schoolmates when they were teenagers. They played music for fun that gradually grew into careers-some even became legends. Therefore, we decided to map out the scenario in which the contestants compete."