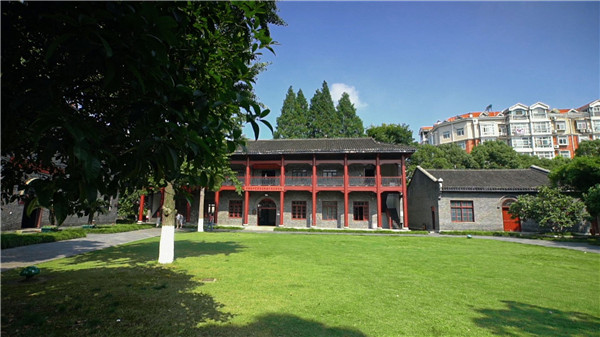 The site of the Fifth National Congress of the Communist Party of China held in Wuhan, Hubei province, in 1927. [Photo provided to China Daily]
When 10-year-old Liu Jian was studying at a Beijing primary school in the early 1960s, his teacher read a famous poem written by Chairman Mao Zedong to the class.
But when the students were confused about the battle depicted in the poem, the teacher asked Liu if he could get details from his grandfather.
Liu is the grandson of Zhu De, one of the founding fathers of New China and the People's Liberation Army.
"My grandfather rarely talked about his feats at home, as he believed the victories belonged to the people," says Liu.
But the late army marshal made an exception for the teacher, inviting her home and speaking about the battle, which was a key one.
This story is featured in the upcoming TV documentary Ni Cong Jinggangshan Zoulai (You Come from Jinggang Mountain), which is based on the early history of the PLA.
Liu and 22 other descendants of the armed forces pioneers, such as the late premier Zhou Enlai's niece Zhou Bingde and the late army marshal Luo Ronghuan's son Luo Dongjin, recently attended an event to promote the series in Beijing.
To mark the 90th anniversary of the founding of the PLA, the six-episode series will air on Beijing Satellite TV from Aug 1, with two episodes every night.
The series, set between 1924 and 1930, chronicles events that shaped the army and Mao's military theories.
The events include the 1927 Nanchang Uprising, the Communist Party of China's first fight against Kuomintang rule, the founding of the Party-led army and the Sanwan Reorganization, which set up a new system to consolidate the Party's leadership of the army in Jiangxi province in 1927.