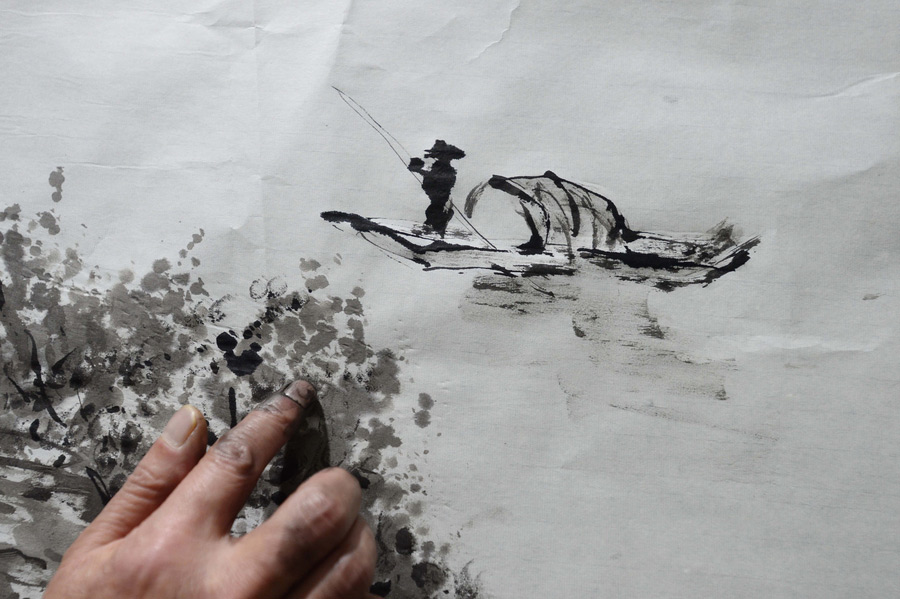 Painter Chen Yuxiang creates vivid artworks using only his fingers, Mar 27, 2017. [Photo/VCG]
Using only his fingers as brushes and traditional Chinese rice paper as canvas, 53-year-old Chen Yuxiang began a four-year project in 2015 to create a scroll painting depicting his hometown of Guizhou. Currently, he's halfway finished with the huge undertaking.
Chen's goal is to finish a 100-meter-long ink scroll painting, which will include about 100 scenic spots in the Southwest Chinese province, to show his bond with his hometown. The painting is expected to be completed in 2019.
Guizhou is a famed tourist destination in China, with the Huangguoshu Waterfall and the Danxia landform topping the sightseeing list.
In order to revive the beauty of these natural landscapes, Chen has visited over 70 of the region's tourist spots over the past two years, making sketches on-site.
Chen is also a local sculptor. Finger painting was initially a medical treatment that Chen tested on himself after his hands were injured during an accident. He painted with his hands in order to recover the dexterity of his fingers. After several tries, however, he fell in love with the unique form of art creation.