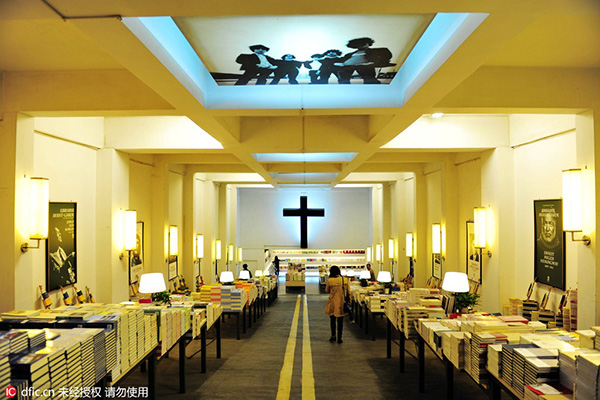 Librarie Advant-Garde. [Photo/IC]
1. Librarie Advant-Garde
Librarie Advant-Garde has been listed as a top 10 most beautiful bookstore in the world by media like the BBC and CNN in the last several years, along with others like the famous Shakespeare & Company in Paris.
The bookstore, founded 20 years ago, now sits in an underground parking lot in Nanjing, Jiangsu province. The 4,000-quare-meter space houses more than 300,000 copies of books, mainly philosophy, literature, history and art.
The setting of Ernest Hemingway's short story, "A Clean Well-Lighted Place", can well describe the general atmosphere at Librarie Advant-Garde. But what is more, there are two black crosses hanging on the walls of the two entrances, creating pious solemnity鈥攔eading is a religion.
Taking a stroll around the whole space and picking up one or two your beloved books on a chilly, rainy day is one of the best activities for book lovers.