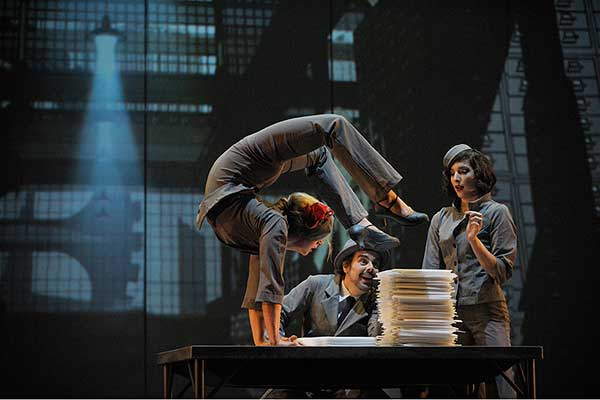 Performers who are jugglers, contortionists and multidisciplinary artists play stunts in Cirkopolis, a show from Canada, which will tour 19 Chinese cities from June to September.[Photo provided to China Daily]
Cirkopolis, a show from Canada, will tour China from June to September. It has been performed hundreds of times in nearly two dozen countries earlier. Zhang Kun reports in Shanghai.
Cirkopolis, a show from Canada that combines theater, circus and dance, will tour 19 cities in China from June to September.
"It's like a theater version of the film Inception," says Zhou Bin, general manager of its Chinese promoter Shanghai Fresh Vogur.
"It's a visual extravaganza that takes audiences along with the actors on a trip through illusions and reality."
Staged by Jeannot Painchaud, one of the directors of Cirques Eloize, Cirkopolis is set in a concrete jungle.
Twelve performers mount the stage in armor-like trench coats and hats, and then the show unfolds-defying monotony and pushing the limits of an industrial city.
They are jugglers, contortionists, aerial and multidisciplinary artists, and they perform stunts accompanied by original music and stage design, complete with video projections, until anonymity and bleakness give way to bursts of color and vitality.
"It's theater, a musical, a ballet and of course acrobatics. It's a contemporary circus and a circus of the future," said Painchaud at Beijing's Poly Theater earlier.
A former acrobat, Painchaud says he wanted to explore different artistic visions, so in 1993, he founded Cirque Eloize to invite artists from different fields to perform in a "contemporary circus". Ever since, Cirque Eloize has presented more than 4,000 performances in more than 500 cities around the world.