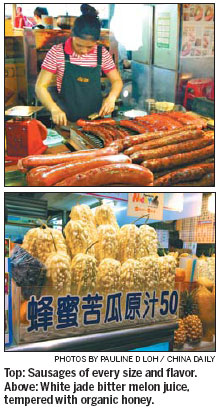 One of the must-dos on every mainland visitor's list is the Shi Lin Night Market in Taipei, usually on the last day of a hectic 10-day round-Island tour. Here, many of Taiwan's iconic "little eats", or street snacks, wait to tempt tourists.
The evening we visited, the first thing we noticed was an extremely long queue in front of one stall - which was dishing out huge fillets of salt-and-pepper breaded chicken steaks. Each dinner-plate sized chicken fillet cost just $1.90 (TWD$55), which translates to about 13 yuan for a pure protein feast.
Inside the Shi Lin market, you can also sample yet another Taiwan classic, the oyster omelet which has its origins in the coastal province of Fujian, where most of the early Taiwanese came from.
It is really more an egg dish than an omelet, as the base is a batter made from sweet potato starch. A beaten egg is poured over, and then a scatter of oysters and lots of chopped green vegetables are added. Finally, a rather luridly pink starchy sauce is poured over the whole concoction.
It is a bit of an acquired taste, as the batter, though cooked, tends to be a little slimy, a tactile sensation actually accentuated by the gooey sauce. Still, judging by the many stalls offering this delicacy at the market, it must be one of the most popular supper choices for the locals.
To the tourists with more conservative tastes, there are plenty of other options, including a surprisingly large variety of sausages, all sorts of fried breads and pancakes, seafood tempura, stewed offal and something called "coffin bread".
The last is a Tainan specialty, and its rather morbid name gives you a hint of the earthy humor prevalent in the south. It's actually nothing more than thick toast with a savory stuffing of mushrooms, mixed vegetables or minced chicken. A square is cut from the middle of the crunchy toast and lifted off as a lid that then sits on top of the filling.
Stop and try the thin wheat noodle (meesua) stew and offal soup if you are adventurous enough. Both are served piping hot, so there is little hygiene risk. You just have to conquer your aversion to eating animal insides.
I was more drawn to the bright displays of Taiwan's famous tropical vegetables and fruits at the juice stalls.
My husband and I stopped for a tall mug of honey and bitter melon juice, which the smiling vendor said would get rid of all the excessive "heat" we had gathered in a week of hard traveling.
The bitter melon is a local variety, called "white jade", developed by the island's agricultural research institutes. The very pale melon certainly did not taste as bitter as the normal green variety and the added organic honey made it very palatable - a true thirst-quencher.
I was equally delighted to spot a pile of huge custard apples. These soft, sweet fruits are hard to find anywhere else, and they do not travel well, being easily bruised when they are ripe and ready for eating.
Hard green fruits, though successfully exported, just do not have the same aromatic appeal that their tree-ripened cousins possess.
They do not come cheap, but it is worth paying the money for a taste of this ambrosia-like gift from nature.
Away from Taipei city, there are also lots of edible attractions at every town we passed as we slowly made our way from Taichung across the mountainous Central Range down to the coastal regions of the east and up to northeastern corner of the island. For example, as we left Taichung, we passed by a strawberry farm and stopped to pick a sun-scented punnet of beautifully red fruit.
The friendly lady-owner guided my husband to the best rows and handed him a cardboard box and a pair of scissors. For an hour or so, my spouse happily wandered among the strawberry fields and finally came back with juice-stained lips, a wide grin and an offering of the sweetest fruit. It was a happy and memorable break in the journey.
In yet another town near Puli, we enjoyed rou wan, the famous glutinous Taiwanese meatballs. The rotund stall-owner was obviously proud of his skills, and there were "instructions" posted on the wall to tell you the right way to eat these slightly chewy but very delicious meatballs
Exploring a new travel destination is always about the scenery, the landmarks, the people and the food. My previous visits to Taiwan had always been as a working journalist, and it was a nice change this time to go as a tourist and enjoy all the little pleasures that the island has to offer. And we had only started with the appetizers.