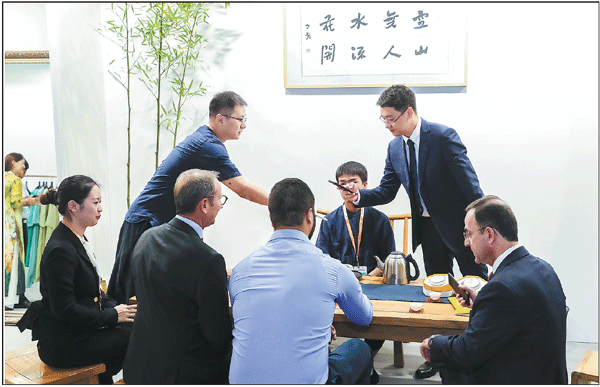 China has developed 13 health tourism demonstration facilities and 15 innovative zones for traditional Chinese medicine experiences across the country. [Photo provided to China Daily]
A recent expo in Beijing shows that travel businesses and medical facilities at home and abroad are looking for ways to tap this growing market.
Rajendra Dhumma is busy making connections with industry players at an international health tourism expo in Beijing in late August.
The man from India has worked as a doctor and a health tour operator over the years.
"We have been sending guests to China, mainly from India, Sri Lanka and Nepal," Dhumma says.
Having been to Guangdong province's Guangzhou and Shenzhen, as well as Jiangsu province's Nanjing, Dhumma says he has found that Chinese herbal remedies have proved therapeutic for his guests who suffered from diabetes, hypertension or simply stress.
His purpose of coming to the Beijing expo was to find out more about health tourism resources and to develop tours for his guests.
Dhumma is one of the many visitors from 12 countries and regions who looked for opportunities at the Beijing International Health Tourism Expo, held over Aug 30-Sept 1.
The health expo was an initiative by the Ministry of Culture and Tourism, and was first held in 2017.
This year's expo covered an area of 13,000 square meters and featured eight zones, including leisure, therapy, food and holiday destinations.
Also, health tourism experts and tour organizers got together to discuss ways of optimizing the industry to better cater to the changing needs.
Besides, visitors had access to health tourism products at home and from abroad and could experience on-site health services, such as traditional Chinese medicine.