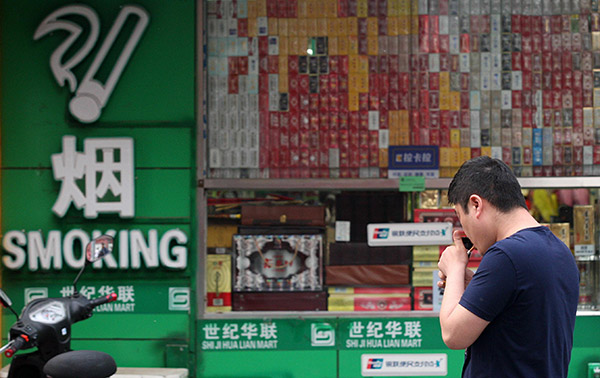 [Photo by Wang Zhuangfei/Asianewsphoto]
The number of cigarettes sold in Beijing last year decreased by 8 percent year-on-year, the biggest decline in recent years, according to a report on population health released by the Beijing municipal government on Wednesday.
Among people age 15 or older in Beijing, the percentage who smoke decreased to 22.3 percent last year, a drop of 4.7 percent from 2014. The total number of smokers decreased by about 200,000, the report said.
The number of cigarettes sold in Beijing last year reached 93.8 billion, the report said, citing the Beijing Bureau of Statistics.
The number of cigarettes sold in Beijing climbed from 2012 to a peak in 2014 before beginning to decline in 2015.
Beijing adopted one of the strictest tobacco control regulations in China in June 2015. It bans smoking in all indoor public areas and workplaces, as well as a number of outdoor areas, including schools and hospitals where women or children are present.
Last year the city's health authorities inspected more than 95,000 public places and ordered owners of more than 5,000 of them to rectify problems and comply with the tobacco control regulation.
Fines totaling 1.3 million yuan ($192,000) were handed to businesses in 433 cases, while individual smokers were fined a total of 104,000 yuan, the report said.
Of Beijing's estimated 4 million smokers, 15.5 percent last year were considering quitting in the next 12 months, compared with 11.6 percent in 2014, the report said.
Although tobacco control regulations are in force in Beijing, violations continue to take place at entertainment venues and in restaurants and office buildings, said Wang Benjin, deputy director of the city's Health Inspection Bureau.
"Tobacco control is a long-term task, and persistent efforts are needed to achieve dramatic declines in violations," he said.
Some other major cities, including Shanghai, Guangzhou, Shenzhen and Hangzhou, have also adopted tobacco control regulations, but rules at the national level have not been created, the report noted.
It added that, in general, health conditions of permanent Beijing residents are close to the level of developed countries. The life expectancy for residents with Beijing household registration in 2016 reached 82.03 years, second only to Shanghai, which reached 83.13 years, the report said.