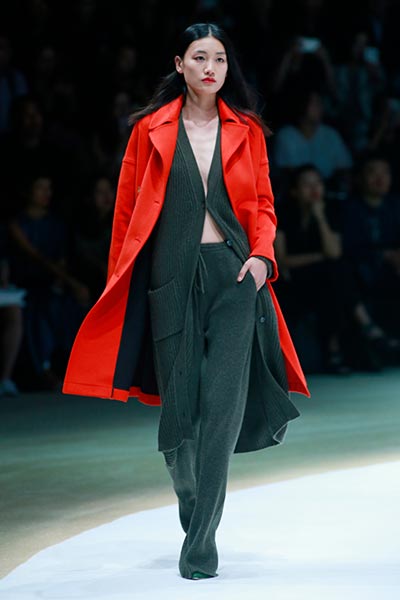 A model wears creations of Erdos' two brands-Erdos 1980 and Erdos-in a runway show in Beijing.[Photo provided to China Daily]
With the Chinese consumer landscape changing rapidly, homegrown brands are struggling to attract affluent young customers. But Erdos, a Chinese household name when it comes to cashmere, is trying something different-creating two brands from one.
Erdos held a fashion show in Beijing on Sept 1, presenting two brands-Erdos 1980 and Erdos. And supermodel Liu Wen and actress Zhang Ziyi were on its guest list.
The show opened with a ballet performance in which dancers were all dressed in cashmere.
The collections on show comprised coats, dresses and sweaters, highlighting simple lines and subtle colors.
Erdos 1980 reinterprets the classic style of the original brand with its emphasis on quality and comfort, while Erdos targets China's well-educated middle class, which looks for both quality and fashion.
Although China's apparel industry is facing difficulties, new opportunities are emerging as consumers today have more specific needs, says Wang Zhen, vice-president of the Erdos Group, who is also the daughter of Wang Linxiang, founder of the company.
"This is an opportunity that we cannot afford to miss," she says.
"Our customers are changing and diversifying, and we have to meet their needs."