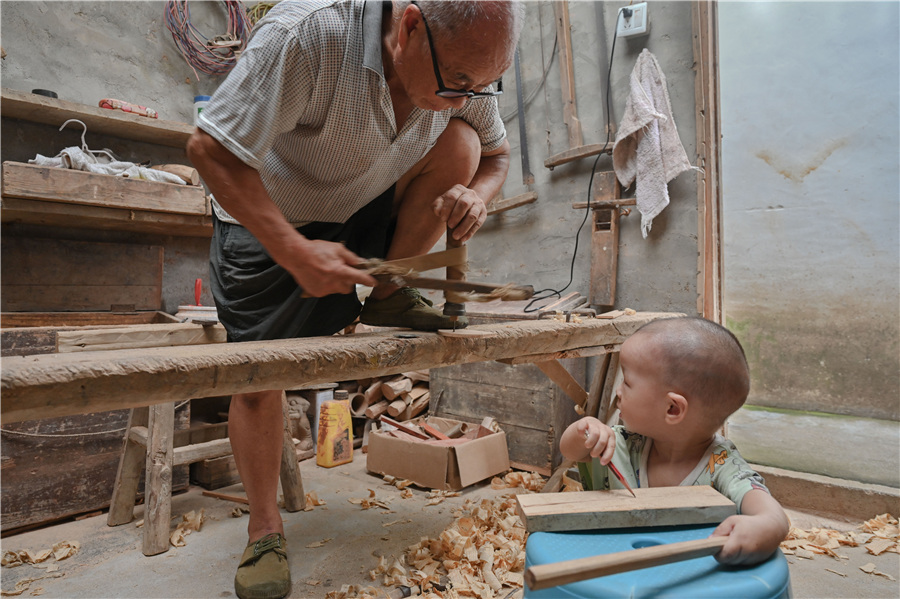 Li's grandson Dandan watches him making wooden toys. [Photo/Xinhua]
It is not rare in China that many seniors make good use of their retirement years to find ways to please their grandchildren.
Some of them can make traditional sugar figures. It is called the sugar figure blowing art that uses sugar as its basic material, and the maker has his own ways to boil sugar and blow it into various figures. Some can weave, using even the most unexpected materials such as leaves, and some excel in carpentry, and often use wood to carve lifelike dolls and toys.
Recently, in Xinqiao village, Xinqiao township, Changting county, Longyan city, in East China's Fujian province, one-and-a-half-year-old Dandan became the most enviable child in the village.
Not long ago, his grandfather made a pure wooden "mantis cart" for him. The wooden components on both sides of the cart would rise and fall with the wheels, resembling a mantis. This one-of-a-kind toy was filmed by the child's parents and posted on the internet. The cart immediately aroused curiosity among netizens.