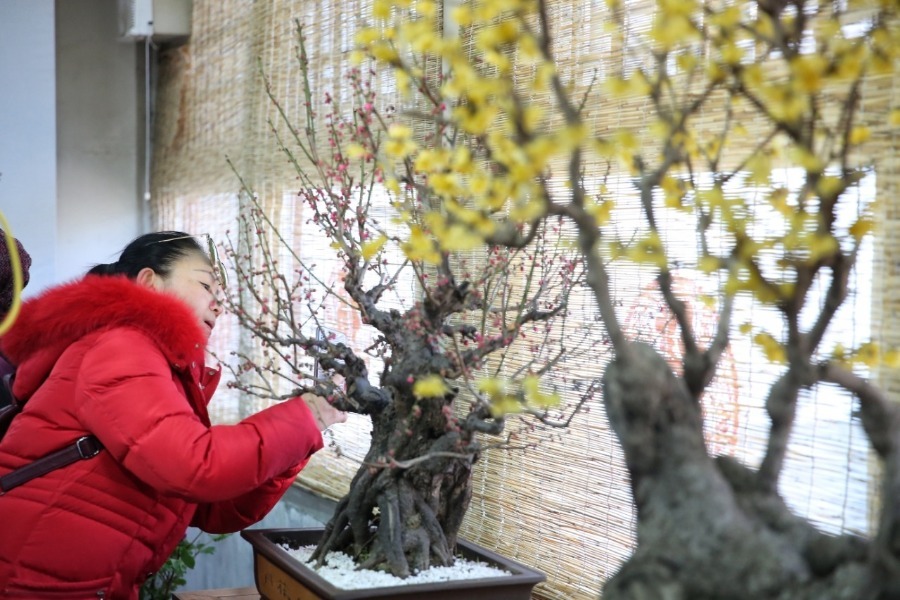 A visitor takes photos of a plum blossom bonsai.[Photo by Jiang Dong/ chinadaily.com.cn]
A bonsai exhibition displaying plum blossom and wintersweet varieties opened in Summer Palace on Monday to welcome the Spring Festival.
About 100 bonsai trees have been showcased for the exhibition, and many of them are over 100 years old. Some off-season floral varieties, like peonies and magnolias, have also joined the exhibition, thanks to horticultural technology.
Visitors to the exhibition can also enjoy oolong tea and fortune cookies in the exhibition area. The exhibition will last until Feb 2.
Plum blossoms and wintersweets used to be widely planted in the Summer Palace, the former royal resort during the Qing Dynasty (1644-1911), according to historical records, and Emperor Qianlong (1711-99) wrote many poems dedicated to these blossoms.