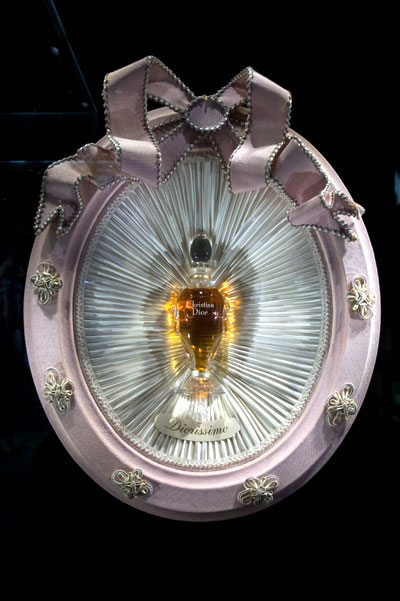 Dior鈥檚 perfume bottles are decorated with ribbons.[Photo by Gao Erqiang/China Daily]
The glass-and-steel Shanghai Museum of Contemporary Art, tucked deep in the lush greeneries of People's Park, is turning into a huge walking closet for fashionistas, with the unveiling of a three-month exhibition devoted to the House of Dior brand that kicked off in September.
Occupying both floors of the museum, the exhibition, Esprit Dior is curated by Florence Muller, the French fashion historian and the author of Inspiration Dior. It is developed around nine themes, starting from setting the tone of the iconic Dior Look to the inspirational Dior Garden where Monsieur Dior always went when creating new collections and the dazzling Stars in Dior.
"Esprit Dior bears witness to this interaction between fashion and aesthetics, and between fashion and society. The surprising alliance of art and style is echoed in every moment of our everyday experiences, making life more beautiful as a whole," says the House of Dior in a statement.
More than 100 frocks, from the earliest gowns that define the "New Look" in the 1940's postwar era to the latest famous "fall dress" over which Jennifer Lawrence tumbled and won her first Oscar award, are beautifully arranged with accessories including bags, shoes and jewelry. Along the corridors and staircases, hundreds of photographs by Patrick Demarchelier and design sketches offer a series of behind-the-scenes stories.
Specially created pieces by nine Chinese contemporary artists, including Zhang Huan, Liu Jianhua and Lin Tianmiao, are scattered around the whole exhibition space to "redefine the spirit of Dior from the perspective of Chinese artists".
Above the atelier section, for example, where five artisans from Paris immerse themselves in their routine jobs of sewing, patching and tying ribbons around perfume bottles, an installation of a giant set of golden tools by Chinese artist Lin Tianmiao dots the ceiling like butterflies. These works provide a rather "oriental" version of Dior ethos.
If you are lucky enough to visit the exhibition on a less-crowded day, the staccato of high-heels clacking back and forth that resounds the whole space is a noteworthy detail. Just imagine the sultry Charlize Theron striding down in the famous J'adore fragrance ad campaign upstairs while you are touring the exhibition.